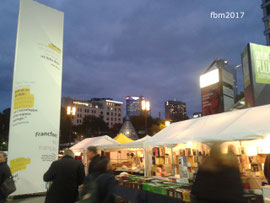 Today the bookfair in Frankfurt am Main ends, and we are not there? Why? There are other things on our plate. But first of all I want to share with you the comprehensive newsletters, that guided us online and afforded to experience this wonderful bookfair long distance. The picture is from our first visit as publishing house: #fbm17.  
Frankfurter Buchmesse - newsletters during the bookfair
#fbm23: What's new? | Top Topic Artificial Intelligence | Live Broadcast of the Opening Ceremony
#fbm23 - Highlights on Wednesday of the fair
#fbm23 - Highlights on Thursday of the fair
#fbm23 - Highlights on Friday of the fair
#fbm23 - Highlights on the fair weekend
Sharing
was and is one of the keywords on #fbm23. And our new colleague, Ms Artificial Intelligence, and some of her buddies such as Mr ChatGPT are also there.
Okay, back to our work, to our contribution in sharing. Our author is working on the second edition of our first four books, the serial catch the moose. If you are interested in her reflexions, you are welcome to visit her blog with the tag #elchefangen.
My part of sharing? Of course my job with Santa. We packed the first sleigh and delivered some sweets. Not to shops but some other places where people live. And we check and revise the plan of our logistics for the presents. Oh, Santa is calling. We start to pack the next sleigh. Have a wonderful Sunday and perhaps you are in Frankfurt. There are still nearly five hours to go. Enjoy!
Sincerely
Rudi Moos - Sunday, 22 October 2023
< Andere arbeiten lassen : das Open Access eBook    this entry    Open Access Audiobooks >