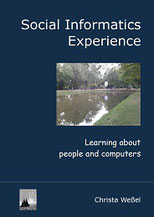 A remark on the storage and documentation at DNB, the German National Library. Currently there are some technical problems and we intend to submit the ebook as soon as possible - just as we did with the other two ebooks in March this year.  [02 June 2023: done -- https://d-nb.info/1291579583/]
It is a day of  joy and of learning for me, as I am writing my first entry in English. So, to introduce our team in short: there is the publisher and author, Christa, there are many friends and colleagues who inspire and support us, and many business partners who facilitate our work. Of prime importance are the readers. Thank you all. We sell our books in print and as audio-CDs and we offer our ebooks with open access, because we like the approach of sharing. 
Our ebooks are so far published online with Open Access and distributed under the terms of the Creative Commons Attribution Non-Commercial License 4.0 (CC BY-NC 4.0).
And I have the honour to report about our experiences and adventures in the world of books, printed, "e" and audio.
Yours sincerely
Rudi Moos - Friday, 26 May 2023
< Open Access      today    Andere arbeiten lassen : das Open Access eBook >